#NOTIMETOWASTE
Meaning behind colors - how to pick the right one
by Jason Hyde on Jun 12, 2020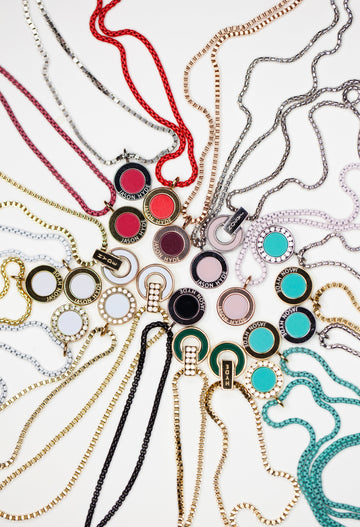 Have you ever wondered what the colors of the jewelry you wear mean? At Jason Hyde, we choose the colors for our RPO chips – inspired by gemstones - based on emotions and trends. The cool thing though, is that we are about to share all our knowledge with you, so you can get a piece that adds even more of what you live into your life.
 

Turquoise

:

 This 

"bluish-green"

 stone, originally came from 

Iran 

and can be found in 

Europe 

or in the southwest of the 

US

. It's very popular in Indian 

jewelry

 

and because it was one of the first mined stones, its use is linked to luck, 

protection, and friendship

. This is why our "all turquoise" pieces are always one of our best sellers. I mean, 

who'd want to turn down some luck in their life, right?

 

Malachite

:

 deep green color, commonly found in 

Russian mountains

, but most of these stones today come from the 

Congo

. Scarcer this year, than ever before; this exotic Malachite is a great stone to connect to Mother Earth. Used for meditation and linked to acts of assistance and service to others, is the color of hope. And as they say: 

Hope is the last thing you lose, so you can rest assured you'll never misplace these items!

 

Mother of Pearl

:

 (or erm… just Pearl), they come from oysters. This color represents pureness and virtuousness which is why brides often wear them sown into their gowns and it's this month's 

(in case you didn't know is now June, and yes, we are already in the middle of 2020)

 birthstone. Also, whoever said you can't wear white after Labor Day, never saw a pearl before.

 

Coral

:

  a vibrant color between red and orange. A creature that was once believed to be a plant. 

(Yes, we were also confused by this)

. The most energy-linked color. It combats fear and depression and attracts wealth and strength. The symbol of happiness. All of our clients that buy it leave with a smile.

 

Lapiz Lazuli

:

 deep celeste blue color. The heart of the ocean, this is the most sought-after stone since, like, ever! It symbolizes royalty, wealth, and honor, associated with gods and everything that's right in life. What we're saying is: are you getting one or do we have to do it for you?

 

Ruby

:

 bright red and shiny, resemblance to sapphire. The stone of love and passion. The greatest help to prevent any psychic attack 

(we never know what's out there).

 If you're an Aquarius, there's compelling evidence that you should not be wearing the actual stone, so, will all Aquarius out there please stand up? Our beautiful RPO jewelry is waiting for you!

 

Onyx

:

 usually black but also dyed to get this jet-black color that everyone likes. Linked to self-control, intelligence, and healing every heartache. Black has also always been the new black. So, 

do we need to say more?

 We didn't think so.
We hope that this helped with making the tough decision of choosing which color to get, if you still have any doubts, just do what we did, and get them ALL! Remember: there's is no TIME to waste to get your charm on and wear your colors this summer!