#NOTIMETOWASTE
The best gift for dad: time
by Jason Hyde on Jun 19, 2020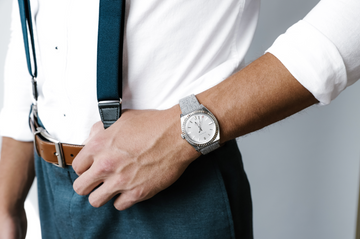 Since we are all about transparency and honesty, this felt like a good time to say: I never know what to get my dad for Father's Day, sorry, dad! (other than the big hug and kisses that I always do). 
As a woman writing this entry, I find it very hard to buy/make things for men. How many wallets, ties, and socks can someone really own? Watches are a reliable, beautiful, perfect gift (which is why I encourage you to go check out our Sixty8 collection, which is very sporty, elegant, and fun).
If he has too many watches, we also recommend our Thalassa Magnet Bracelets! They're the perfect everyday watch for any male. 
But coming back to why I'm writing this in the first place… This year, get Dad something better. 
What about "TIME"? We always hear time is money, and it really is! But time also means love, caring, and dedication. When you give someone your time, you're giving them something that you will never get back.
Buy him something he'll love and also spend some time with him if you can. 
Do you know what a great way to track time is? A WATCH! We created Jason Hyde watches to make a statement, one that says I CARE.
As a Miami-based company, we wanted to share some fun activities to do over the weekend.
What to do with Dad in Miami:
Since parks have re-opened, going for a walk outside is always fun. A nice picnic with some fruits and water to share (because staying hydrated is a big thing, especially in South Florida), kayaking is also a good idea if you're into water sports. And speaking about water, beaches are now allowing you to go for a swim and even sit on the sand!

Also, restaurants have opened up with COVID-19 restrictions and social distancing. If going out seems like the right way of treating dad to a tasty meal, you can get away with it, without having to clean the mess in the kitchen after.
Shop now
If you're still not sure about physically being in a restaurant with other people (we get it), takeout is always an option! Not only to treat your loved ones but also to help out small businesses through these times.

Now, coming back to nature, though, our plan for the weekend is 

to visit Arch Creek Park.

 Have you heard of it? If your answer is no, you're in for a treat! Located in North Miami Beach, Arch Creek was "designated as a 

Florida State Historical Preserve

, the park's historic grounds have been a valuable archaeological resource in understanding the culture and activities of South Florida's earliest hunter-gatherers." Open from 9am to 5pm every weekend, the idea of connecting with mother earth and getting away from the urban life for a few hours is what we call "time well spent".
Don't forget to share with us YOUR favorite Father's Day activity! Finally, we want to thank all Jason Hyde Fathers for your hard work and determination, there's no TIME to waste when you're making the world a better place for your children. Thank you, Dad!