#NOTIMETOWASTE
Best sustainable hotels and resorts in the world
by Jason Hyde on Jul 10, 2020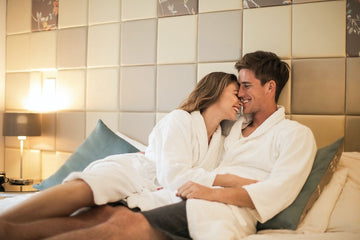 Wanderlust (n.) is a strong desire for or impulse to wander or travel and explore the world. 
Being in quarantine in the mid of a global pandemic has us thinking about different ideas, and I don't know about you, but traveling and discovering other places has been one of the top ones for us. This is why we've been researching the best hotels around the globe that fit our standards, and yes, we might sound "high-maintenance" but taking care of the planet is not something that stops on vacation. 
This is why we wanted to share with you some of the amazing sustainable, eco-friendly places we've found and where we want to go once traveling gets safer:
(of course, there's no actual order for this, but numbering it seemed like the best idea to show them to you)
1.- The Whitepod resort in Switzerland: This one is pretty cool, it's not only very luxurious, but it's also very environmentally friendly. The pods are made of a self-supporting framework that minimizes the use of construction materials. They use LED bulbs to light the campus, and they are placed sparingly to keep electricity consumption to a minimum. Oh, did I mention that water conservation is also a top priority for this resort? They use local spring water and have water-saving devices on every tap.
2.-Hotel Felix Chicago: This one made the list because it makes an incredible job bringing "green" to the big city. It also makes a big effort to use recycled materials, from the carpets to the exterior sculpture. In addition, all the cleaning products they use, follow strict Green Seal certification, and to top it all… all their chocolate and coffee are free-trade organic (of course). Finally, the location made it perfect for the hotel to take advantage of the sun exposure for a little help warming their guests during winter.
3.- The Brando resort: situated in French Polynesia, specifically on the private island of Tetiaroa, this hotel is truly one of a kind. A member of the National Geographic unique lodges of the world, AND is close to being a self-sustainable and carbon-neutral hotel. The energy it uses is renewable, produced either through solar power or by a biofuel power station powered by coconut oil (amazing, right?). 
Its seawater air conditioning system harnesses the cool water found deep in the sea and pipes it to the land to be used. When it rains, the water is collected from the roofs of the villas to supply toilets and laundry services. As if this wasn't impressive enough, Brando resort encourages guests to take at least one of the courses they offer on eco-technology, Polynesian culture, animal life, and coral reefs. (If you're not googling this resort by now, we can't be friends).
4.- Hotel Monaco: Located in the Emerald City, or Seattle as you may know it. Aside from the great efforts to use non-toxic cleaning supplies and recycling, this hotel is also special because of its food. Chef Jason McClure prefers to use almost all local and sustainable products when possible, this includes sustainable seafood. He also recycles his cooking oil by turning it into fuel used for cooking, which is pretty smart, huh? And If you're picking up a meal to go from Sazerac, you'll notice that the utensils are made of corn and not the traditional takeout plastic. With a partnership with the Trust For Public Land and the Nature Conservancy, Hotel Monaco donates a portion of the daily room rates to both initiatives to help keep America green.
5.- Urnatur Resort: This resort in Sweden is basically THE ultimate eco-destination. Not only does it promote living in harmony with nature, but its handcrafted huts nestled in the woods put urban life to the test. There is no electricity on site and the area lights up with lanterns, making its carbon emissions almost zero. Also, everything that can be found around is made from locally sourced materials and traditional techniques. As they say: "Ecotourism is responsible traveling that contributes to the nature conservation and locals' well-being."
These are only 5 of HUNDREDS around the world. It's amazing to see how everyone has their "take" on sustainability (because everything is not black and white) and how they combine it to guarantee an amazing holiday for their visitors. Taking care of the planet while traveling has never been so easy. We hope you learned a thing (or two) about these cool places and that it motivated you to start planning your next escape. 
Comment down below which was your favorite hotel or if you've ever been to a sustainable hotel/resort before!