#NOTIMETOWASTE
Mas salagros: the greenest place
by Jason Hyde on Oct 29, 2020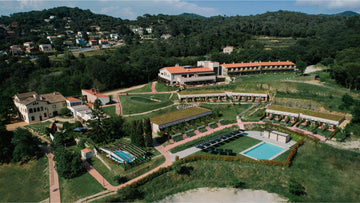 We all know how much we love our planet. Part of what we like is discovering new places, so today we want you to do it with us!
Our destination today is 20 minutes outside of Barcelona, Spain.
MAS SALAGROS ECORESORT
One hundred percent eco-friendly, and the first in the area, this small hotel respects all sustainability rules and can guarantee all its products are so as well.
It has its own naturalized lake. 150 meters long and emerges from the San José mine. With its own farm filled with chickens and goats that are running loose when the day begins. Meanwhile, its 60 rooms (they're all different) are completely comfortable and one hundred percent recycled. Yes, from the materials (from antique dealers and restored) to the beds, and yes, all the textile is of ecological origin.
Everything is thought out and designed to the millimeter to fulfill the initial purpose of this project which was designed to be more than a hotel, to contribute to and ensure responsible and sustainable tourism.
To this respect of the ecology, we add three gastronomic spaces.
The first: Restaurant 1497, owes its name to the date of the first registered documents of the Can Salagros farmhouse, and reserved for people over eight years of age, offers a carefully selected seasonal menu with its own products and the best wines.
Then we have The Gastro Wine Bar which opened three years ago and offers a selection of equally ecological tapas and dishes in a relaxed environment that has made it a fashionable place for aperitifs and after works for local customers. Finally, the Cibus (gastronomy) is the perfect space to eat seasonal produce with unique views of the Serralada del Litoral.
But wait, there is more! Two outdoor swimming pools, the Wellness by Aire Ancient Baths Vallromanes, offer a complete thermal circuit in a natural environment.
The Aire centers are spaces that live in the memory of past centuries and are inspired by the benefits that our relationship with water brings us. And so, with the idea of ​​recovering the ancient tradition of the Greek and Roman bath and incorporating this concept in reconstructed historical buildings, this location in Vallromanes offers the opportunity to disconnect in a different environment.
Another amazing thing about this place is that when the conditions allow it, the Slow Market is also organized here. It is an event promoted by Mas Salagros with the goal of promoting awareness of the place and of the resort's ecological philosophy and making local designers and producers in the area known.
All in all, beauty, relaxation, and ecology meet at this place to bring the best service, view, and simplicity to all its guests.