#NOTIMETOWASTE
The future of speed: Vision ATVR
by Jason Hyde on Oct 08, 2020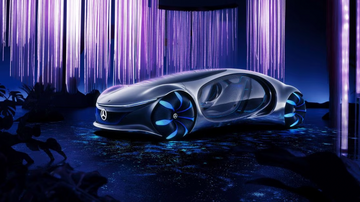 When we think about luxury, we think of money. We think spotlight, nights out, fancy restaurants, and fast cars.
Often, people believe that sustainability and luxury can't go together. We have proven that wrong before, and actually are about to do it one more time.
Now, going back to cars. Mercedes-Benz has always been a high-end brand. Selling more than just a car, a lifestyle of greatness through the years, we've seen sports cars, sedans, and SUVs turn to extravagance. Now, they bring in the: VISION AVTR (inspired by Avatar – queue my inners child scream-). 
"This concept vehicle embodies the vision of Mercedes-Benz designers, engineers, and trend researchers for mobility in the distant future."
What's great about this car other than how cool it looks, you may ask? Well, according to the official specs from Mercedes -Benz:
"With its four high-performance and near-wheel-built electric motors, the VISION AVTR embodies a particularly agile implementation of the vision of a dynamic luxury saloon… The innovative all-wheel drive with torque vectoring enables completely new freedoms and guarantees driving dynamics at the highest level while at the same time providing the best possible active safety. This means that each wheel can be driven separately. Due to the possibility to drive the front and rear axles simultaneously or in opposite ways, the VISION AVTR can move sideways by approx. 30 degrees, in contrast to conventional vehicles. The so-called "crab movement" gives the concept vehicle a reptile-like appearance even in its movement."
What is truly amazing about it, is its organic battery technology. While it's true that there are other battery/electric cars, the VISION AVTR counts with a battery that is based on graphene-based organic cell chemistry and thus completely eliminates rare, toxic, and expensive materials such as metals. 
And not only that but this battery is… compostable. WHAT? Yes!! You read that right, 100% compostable which means it's highly recyclable and makes Mercedes-Benz a leader in the future of the economy of the raw materials sector. This out-of-the-ordinary battery also recharges in under 20 minutes and lasts for a minimum of 700km on electricity only.
Visually, the VISION AVTR is like a movie car. It has cutting-edge futuristic elements and was designed to holistically merge the inside with the outside (man and car), making the connection between passengers and surroundings even closer. 
From the shape to the color, the fabric of this car is made out to reassemble the sea, depending on the light it will change from dark to light blue and is refined by a vegan leather: DINAMICA.
If you're still not convinced how cool, luxurious, and sustainable this new card is, you can learn more about it here: https://www.mercedes-benz.com/en/vehicles/passenger-cars/mercedes-benz-concept-cars/vision-avtr/