#NOTIMETOWASTE
How to enjoy holidays without being overwhelmed!
by Jason Hyde on Dec 16, 2021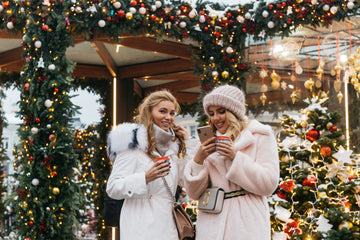 Are the upcoming holidays already overwhelming you? It isn't surprising if they are. Having family over or going to a family member's place can be too much already. Add the gift exchange, office parties, and traveling... craziness all season long. 
The last trimester of the year is storming with events: Halloween, Thanksgiving, Hanukkah, Christmas, and new years. 
I'm overwhelmed just from typing that.
Don't panic, because we have some tips for you!
Let's set the record straight. You don't owe anyone anything if it's going to cost you your mental health. 2022 is the year of normalizing peace of mind and, in that spirit, your family should be the first to understand what overwhelms you and how they can help you. 

Don't be afraid to ask for help and don't forget to set boundaries. Maybe you need to get there late or leave early. Let people know and be assertive, that way you speak and communicate your boundaries makes your loved ones understand.

In the spirit of becoming more sustainable and t create change, keep in mind this is the season to give. Spring is not the only season where we can do some cleanings and get rid of things we don't use, do a winter cleaning, and donate those items you loved but don't serve you anymore.

We seem to think gifts have to be new but there's no shame and it can even be rewarding to give others (and yourself) some second-hand clothes or accessories. Try your hand at some convenient apps like Poshmark and ThredUp for inspiration or visit your local thrift store, you'll thank us later.

And lastly, gift wrapping and holiday decorations can be fun, crafty, and sustainable with a little help from a Pinterest DIY search. Get ahead of that winter/spring cleaning and paper mache some old receipts and used papers that you were thinking about throwing away. It's not only a great way to blow off some steam but also rewarding and checks all the boxes of what the holidays are supposed to be. 
What are you waiting for? Christmas is around the corner and getting ahead of the chaos will prevent the overwhelm from happening and prevent you from wasting time.