#NOTIMETOWASTE
Tis the season to be… sustainable?
by Jason Hyde on Dec 10, 2020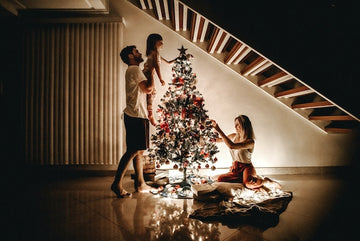 Tis the season to be… sustainable? As you may know, the holiday season is just around the corner and that means lots of family and friends time, gatherings and maybe traveling! Some may say that the season gets them out of their routine.
But this doesn't mean that you stopped caring about your goals and beliefs. 
This is why we bring you some ideas on how to make your holiday a bit more sustainable. It doesn't have to be the end of the world if you can't recycle everything or can't find sustainable products where you go. As long as you keep true to yourself and your efforts you can still help the planet while enjoying the time.
Make your Christmas decorations (and make them sustainable): 

Use things you have around the house and create your own Christmas decorations! This can be special and a great project to keep kids busy when they're on break from school (and feels like this has been the whole year) and can even be made into a virtual crafting party with your friends and family!

Use sustainable holiday gift wrap: 

 Did you know that wrapping paper and gift bags are printed with unsustainable inks and coated with shiny foils which are not recyclable. So you can get creative and wrap gifts with materials you have around the house, like old maps, comics, newspapers, or even original artwork. You can also use clean fabric, scarves, bandannas (if that's still even a thing), or dish towels for a totally reusable wrapping. This way your gift turns into a double gift

Switch to led holiday lights: 

Although Christmas lights don't use as much electricity as other things, (like kipping things plugged in while not using them, to name one) making the switch to LED lights can save you around $50 on your holiday season energy bills because they use 90% less energy, and I mean, who doesn't love savings, am I right?
If you have ideas to add to this list let us know in the comments! There's no TIME to waste when we are making holidays even better! After this year, I think we all could use some joy, and what better way to spread it than by making a better future for you and your loved ones.