#NOTIMETOWASTE
Are you already in the slow fashion clothes trend?
by Jason Hyde on Jan 22, 2021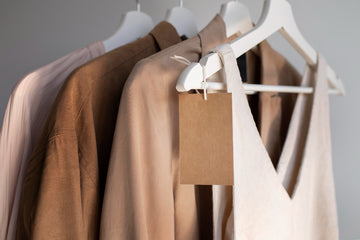 Let's dress more sustainably!
A few years ago, when you wanted to buy something, you'd go to the mainstream places where you can find the different things you need and think, this is what is available, so you must choose something and buy it, even if you were unhappy with your choices.
Fast-forward to 2021 and you can find everything you want in all shapes and forms online, especially after a year that catapulted and prompted more businesses to move to digital shopping.
Thrift stores and second-hand stores have been on the rise for the past decade around the sustainable community, but the average person is also turning away from fast fashion due to costs and an increase in ecological identity. This has made more room for the eco-friendly business movement to bloom.
There's a company that has gone above and beyond repurposing clothes and has made it their purpose to create a product that helps parents save money while helping the environment. That's how Petit Pli was born.
According to their website Petit Pli suits are made from recycled fabrics & have a mono-fiber construction – allowing them to be easily recycled at the end of their use. Along with this, they've partnered with a manufacturer in Portugal that derives 30% of their energy from solar panels.


But you can never have enough kid clothes because they're always growing out of them right? So you need more and more, add to that all the times they get messy and stain their shirts and pants with food, markers, and all the wild things kids use to explore and it never ends.
Petit Pli offers a revolutionary solution for these issues as well.
Not only are they environmentally friendly but they also make clothes that grow with your kid. You read that right, "Our garments grow up to 7 sizes – that's 1 Petit Pli garment purchased in place of 7 traditional ones" imagine the possibilities.
It's not all about growth either. Petit Pli's designs are said to withstand different weather temperatures, rain, and poor laundry practices (or so we guess). Their Tear-resistant technical ripstop protects the fabric of the garment and is what allows it to go back to "petit" after it has been stretched.
As if these weren't enough they have different models and colors to choose from including a model that has reflective technology for added safety for your tiny spaceman's nighttime exploration.
As if the use of sustainably sourced materials wasn't enough, Petit Pli designs significantly reduce waste and CO2 emissions at the point of production, distribution, and after purchase.
Have you switched from fast fashion yet? Let us know in the comments!