#NOTIMETOWASTE
New sustainable innovations: Rooftop Farming
by Jason Hyde on May 13, 2021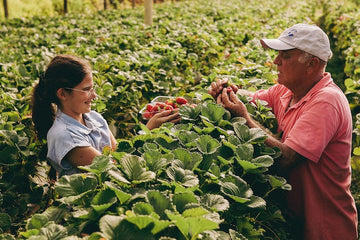 One ability that we can teach our kids that has been vastly overlooked in the last few decades is that of growing your own food. In the last century, the world has become so globalized and our lives so fast-paced and busy that we've surrendered these responsibilities to big corporations that put food (produce) in grocery stores week after week. 
Of course, not everyone has the space to grow their own food. And that is why buying produce from farmers' markets or local farms is the recommended practice. Not only you're going to be eating according to the season's changes but you'll also have more chances of finding fresh organic produce.
In Florida, we are lucky to have weather that makes room for abundant produce choices and year-round crops. In other parts of the world, people have gotten more creative. 
Two entrepreneurs ideated a rooftop greenhouse that might be able to grow food for the entire city of Montreal, Canada. Founded by Lauren Rathmell and Mohamed Hage in 2009, Lufa, has four urban gardens in Montreal, all on rooftops. Their more prominent garden has main crops of tomatoes and auberges, which round up more than 11,000 kg per week. 
According to a piece written by the World Economic Forum, the company is not trying to replace local farms and food makers, acknowledging that not everything can be grown on rooftops. They claim to follow 'responsible agriculture' practices which include capturing and recirculating rainwater, energy-saving glass panels, and an absence of synthetic pesticides. Any waste is composted and reused, and food is sold directly to customers on the day it is harvested. Lufa also has a fleet of electric vehicles to make those deliveries.
Their demand is growing due to the pandemic, which makes us wonder if such practices could be replicated all around. 
Would you start a rooftop greenhouse? Let us know on social media! @jasonhydeworld