#NOTIMETOWASTE
Sustainable gifts for your loved ones
by Jason Hyde on Feb 11, 2021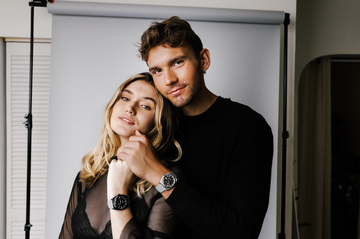 Valentine's Day may be one of the most controversial holidays a lot of people celebrate. Many claim it's a "hallmark" holiday, made up to make you buy gifts and flowers and chocolate for no other reason than giving money to the companies that sell them. 
Others don't mind the holiday and think even though they don't need a date (like mother's, Father's Day, etc) to celebrate their love… It doesn't hurt to take a moment to appreciate their relationships.
Regardless of where you stand on this -not really an- issue, it's definitely a "thing" almost everywhere. Stores have massive sales; you can find coupon codes for whatever you want to buy and a ton of people have huge expectations from it.
We welcome all celebrations and don't think there's any harm in letting the world know how you feel about your loved ones. However, there are more eco-friendly ways to celebrate than spending money on disposable cards or cutting up flowers.
Don't worry we're here to help, here are a few eco-friendly gifts/ways to celebrate your love:
Gift experiences

: Who said you have to buy a physical gift? Experiences can be just as fun/well appreciated. In fact, experiences were a huge hit pre-pandemic. Everything from spa days, concert tickets (during normal times), a funky restaurant outing, an escape room, throwing axes, you name it. This can be an amazing gift for someone whose love language speaks of quality time.

Everything that involves food

: Well, at least we know the food won't go to waste. Of course, restaurants are always great, but food can come in many shapes and forms. Edible bouquet arrangements, chocolates (a classic), a fruit box, etc. Depending on where you're at in you're relationship/life you can send your loved one a week's worth of groceries and take out it's always a nice gesture.

Subscription boxes

: This is another thing that has picked up the game in the last years and boomed during the pandemic. You can find one for almost anything, from food to books to kids' toys and cleaning products. You name it, it probably exists. We love the ones committed to being sustainable, but generally speaking, as long as you're gifting something the person needs and is going to use, you're good. 

We like Literary for kids (and now adult) books and brands that care about the environment like Thrive Market, Wellness box, The Clean Beauty Box, The GreenUp Box, Earth Box, and Life without Plastic are good-to-start ones.

Eco-friendly Jewelry

: Like chocolate, jewelry is a timeless classic gift. But is not a gift that is always budget or eco-friendly. Luckily for you, at Jason Hyde, we check those two boxes, and we have an ample collection for you to choose from.
So, tic tac, you have a few days left to get something for that special someone. There's no day like today to be proactive.