Every year, more than 85 million tons of paper is used by Americans. That's an average of 680 pounds of paper per person each year.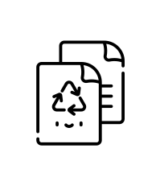 Cork trees source raw cork and continue to grow without any damage to the tree, providing new cork material every 8-9 years.

80% of plastic bottles end up in landfills. Jason Hyde creates watch and jewelry made out of recycled plastic from the ocean from Tide Ocean Material.